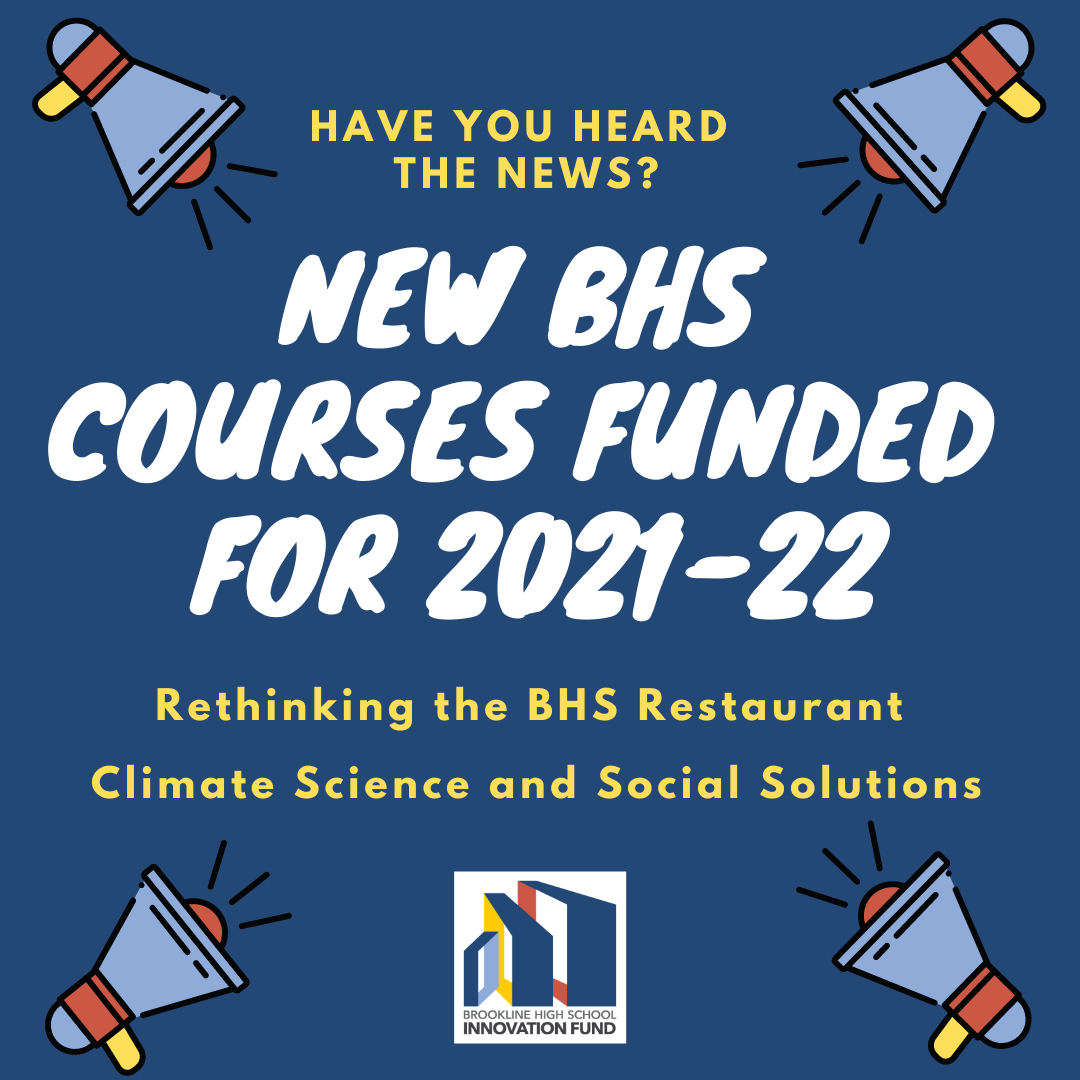 We are excited to announce upcoming investments in teaching and learning at BHS: two brand new courses will launch, four courses will continue through their final year of funding, and faculty will have the opportunity to reflect on pedagogy in the pandemic year at an upcoming summer summit. We are grateful to our generous donors whose support enables us to work with BHS leadership and faculty to fund these important programs.
Rethinking the Restaurant: Creating Community through Social Impact (NEW COURSE)
$66,000 Year One Investment
Rethinking the BHS restaurant will integrate the program more cohesively into curricular and co-curricular experiences for the entire BHS community, with students taking the lead in running its business operations in meaningful and creative ways. Faculty are excited by the multifaceted opportunities for innovation where the restaurant has potential as a lab for interdisciplinary learning with a social impact lens. For example, the restaurant could be a place where English Language Learners could introduce dishes from their home cultures as a special menu item; World Language teachers and students could work with the culinary program to design "take-over" menus for cultural observations or holidays; and students in Social/Food Justice or Environmental Action clubs could team with our culinary program to understand and improve how to sustainably run our business. Rethinking the Restaurant opens up outstanding experiential learning opportunities for students not only in the restaurant itself, but also for a diverse range of students in clubs, courses, and throughout the campus.
Faculty lead: Britt Stevens, Chair, Department of Career and Technical Education
Climate Science and Social Solutions (NEW COURSE)
$43,000 Year One Investment
Climate Science and Social Solutions is an interdisciplinary team-taught elective with instruction from both the scientific and historical perspectives. The course will enable students to engage in project-based learning by analyzing real world policy options related to climate change, and then research and posit definable and effective solutions. The goal is to have seniors engage in advocacy campaigns designed to shape perceptions on climate change and encourage personal mitigation strategies.
Faculty leads: Briana Brown (Science) and Roger Grande (Social Studies)
Faculty COVID-19 Reflection Summit 
$10,000 for BHS faculty to convene this summer to reflect on lessons learned through the pandemic and how their important work funded by our COVID-19 Teaching and Learning Response Grants this year can inform pedagogy for 2021-22.
Continued Funding for Ongoing Courses
$186,000 for continued funding for four pilot programs through their final year in 2021-22: Experiential Physics for Ninth Grade; Brookline Lens; Hub; and Coding @BHS. Learn more about these programs here.
Read more about the impact of these investments in our June 2021 Letter from the Chair