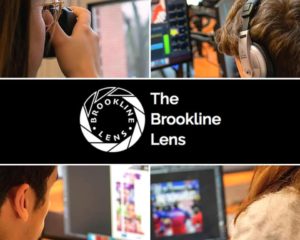 Brookline Lens, a BHS student-run photo and video production house, serves clients outside of Brookline High School, in addition to acceptingin-house project requests. The ultimate goal is for Brookline Lens students to graduate with a strong portfolio and resume highlighting advanced skills in photo and video design, project management and business communication. Launched in the 2019-20 school year, Brookline Lens is one of four new programs currently funded by a grant from the BHS Innovation Fund. The BHS Innovation Fund empowers the BHS faculty and community by fostering a culture of innovation and supporting the development of new ideas and initiatives that will enable our students to thrive in a rapidly changing world.
We caught up with the course leads Lori Lynn, a Visual Arts teacher, and Thato Mwosa, a TV Film and Documentary teacher, who share their insights into Brookline Lens this year, both before and after school closed in March due to the coronavirus pandemic.
How did you come up with Brookline Lens as an idea for an Innovation Fund course?
This course created itself. There was a demand for video and photography projects from entities inside and outside the BHS community. We were often approached with project requests and saw an opportunity for BHS students to do real work for real clients. We decided to turn the demand into a class because we needed time and space for students to focus on client work.
How does Brookline Lens differ from other Visual Arts courses?
Brookline Lens is different from other Visual Arts courses mainly because the projects are client-centered. Rather than creating artwork based on a student's own personal expression, Brookline Lens students must use their creativity and organizational skills to fulfill the needs of others. This model allows students to learn meaningful communication and business skills that are not necessarily part of other Visual Arts courses.
How are community projects distributed to students and how do they manage their workload?
As requests come in from the community, we match projects to Brookline Lens students—taking into consideration skills and workload. In addition, students sometimes see a need within the community for a project and approach potential clients. Students must think about time management and can build a team for larger tasks. We schedule weekly meetings to discuss new job opportunities and the status of any current projects.
What are the opportunities and challenges of this course?
Brookline Lens students must communicate with clients and colleagues in a professional and timely manner, create work that reaches a level of quality expected and respect all deadlines. Students are challenged to always meet the level of professionalism required to complete designs for real clients. These skills are new and challenging for students, but they provide a fantastic opportunity to gain real-world experience and build essential professional skills.
How do you guide and support Brookline Lens students?
As facilitators, we guide students to create work that falls under their expertise, but we also encourage students to try projects that are out of their comfort zone. We work together with students to facilitate the business elements of the course, to inspire individuals to take leadership in groups and with clients and to evaluate performance.
Have students pivoted any projects in response to Coronavirus?
We have a year-long Public Service Campaign that focuses on Mental Health Awareness. When COVID-19 hit our community, we decided to shift gears to create content that still tackles mental health, but with the pandemic in mind. We hope to share those PSAs with the community upon completion. We added a Coronavirus link on the Brookline Lens website. This is space to display both PSAs about how to flatten the curve, and to show off the personal work students have produced during their time at home. The creation of art never stops, even when everyone is separated.
How has teaching remotely impacted Brookline Lens?
One of the big projects our Brookline Lens students were working on was a "Math Video Series" to promote a love of math in middle school. The project was in a pre-production phase and filming had not yet begun when we transitioned to remote learning. The project had to be put on hold, and we are hoping to resume when school opens in the fall. We do have some projects that students are still working on for clients, however. In addition to the COVID-19 PSA, our students just received an opportunity to complete a video for the Brookline Commission for Women.
Please visit brooklinelens.wixsite.com/brooklinelens for more insight into the Brookline Lens team, the students and the projects.