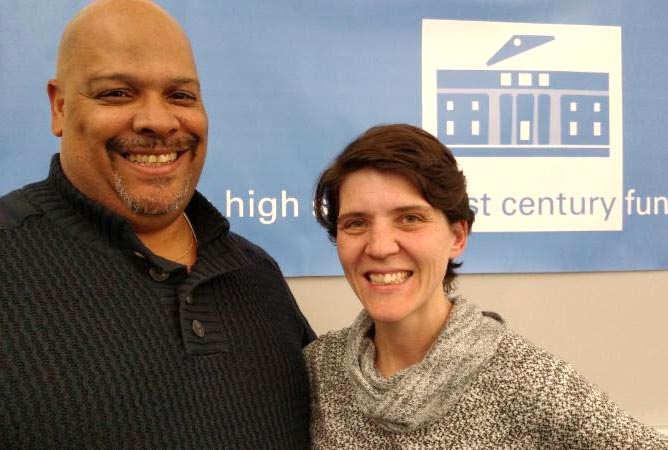 The Racial Awareness Seminar is a year-long sophomore elective that was seeded by the 21st Century Fund in 2016-2017. This seminar-style class is designed to foster students' capacity to reflect on and speak effectively about racial identity, and to create a learning community that embraces and is empowered by the rich diversity of identities and perspectives at BHS.
The following is an update submitted by teachers Malcolm Cawthorne and Kate Leslie in February 2017:
The Racial Awareness Seminar has been working toward the goal of understanding the complexities of race in the 21st century. Recently, our focus has been on students' own racial identities. To think more deeply about this, we have been examining groups historically and currently viewed as "races" within the United States.
We have used the past to focus on the present. Students grappled with the idea that the only Asian identity box that could be filled in on the US Census was "Chinese" until the 1900s. We saw how the growth of Chinatowns in American cities created a "one-size-fits-all" approach to immigrants from Eastern Asia, and we discussed the complexity ignored by this approach. We recognized, for example, that the Middle East is also in Asia, and that racial identities are sometimes connected to religious faith. These observations fueled exhilarating discussions.
A student explained the seminar's effect in a reflection: "In the past quarter my thinking about race has changed so much! In Racial Awareness the way that we learn is so impactful. . . . Instead of being able to pinpoint certain things we learn every day, like parabolas and ionization, I can feel how I've changed as a person over time. In this class I've learned things like how to have a discussion about race. I've learned what racism really is and how to see it. I've learned how to have a voice in my head that goes against the one that makes assumptions. And most importantly I've been able to learn about other people's experiences and what we have to change."
In addition, this year's students feel it is important to become leaders and share their knowledge. Five of our students joined the Anti-Defamation League in its work with Brookline High after the recent incidents of anti-Semitic vandalism. Two students have created an organization to examine Institutional Racism at BHS. Many students were involved with BHS's "Asking for Courage" day in December.
This activism is organic. Many of our students have been inspired by the class to do "personal work," outside of school. Students have attended meetings, movie showings and programs to gain a greater understanding of the issues. Some have worked to reach into communities they feel have been mis- or under-represented. Some have begun to read more for broader understanding. To bring it to the present, the kids are "woke."
— Malcolm Cawthorne and Kate Leslie