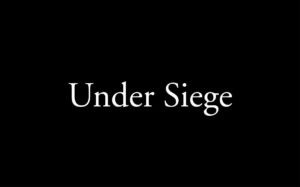 The Brookline High School Innovation Fund is proud to announce national recognition in C-SPAN's StudentCam 2018 Video Documentary Competition for BHS students Chloe Janes, Bryan Zhu, and Romy Meehan for their film,
Under Siege
. Responding to the competition theme, "The Constitution and You," these seniors won Third Prize for a documentary they made in BHS'
Film as History/History as Film
elective. Launched by the BHS Innovation Fund in the 2016-2017 school year, this is a year-long course, co-taught by Mark Wheeler (Social Studies) and Thato Mwosa (Visual Arts) that explores how history is documented in written form and documentary film, helping students maneuver both word and image to be truly effective communicators in the 21st century.
Under Siege
looks at the First Amendment and how the current media climate under the Trump Presidency affects how journalists do their work.
The Brookline High School Innovation Fund catalyzes innovation at BHS and energizes our faculty. The Fund's goal is to invest in courses, programs, forums and research that help administrators and faculty deliver excellence in an evolving world. After a three-year testing and evaluation period, successful investments in new courses become permanently funded by the town of Brookline. We serve as venture capital for public education, thanks to direct financial support from parents and the broader Brookline community.
See the award winning video here: https://www.viddler.com/v/d4a952b8
Photo L-R: Students Chloe Janes, Romy Meehan, Bryan Zhu