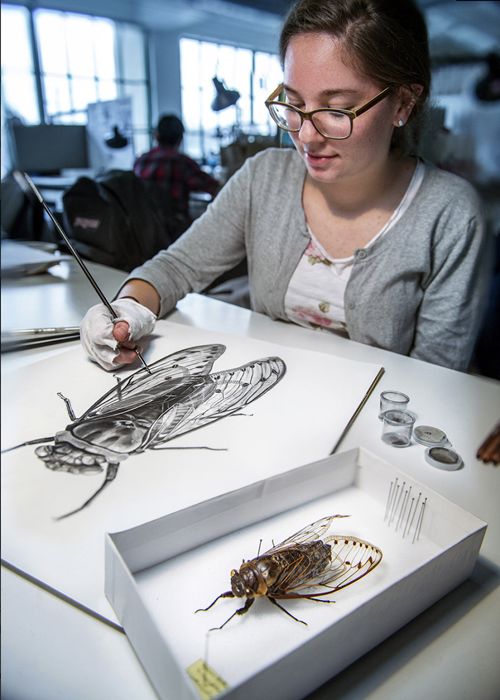 BHS 2013 alum Siena Fried describes the impact of Innovation Fund class, "Drawing for Understanding in Field Science," on her career.
In 2012, Siena Fried was a student in the pilot class of "Drawing for Understanding in Field Science," supported by the BHS Innovation Fund. Siena had previously taken drawing and painting classes with BHS Visual Arts teacher Donna Sartanowicz, and saw the class as the perfect combination of her passions.
"I love biology, and I love art. This class was a way to do both."
The class honed her skills and taught her how to observe something from real life and capture it on paper. Siena credits Ms. Sartanowicz for her mentorship and support in developing her portfolio for college applications. She also credits BHS for preparing her well for the Cleveland Institute of Art where she graduated in 2017.
Even better, the Innovation Fund class led Siena to her career as a biomedical artist. A biomedical artist, in many ways, is like a visual translator. As a bio-communication professional, Siena illustrates complex scientific concepts for research as well as the public.
Siena now works for a company in Newton that creates medical apps for students to help them understand human anatomy and physiology even before they touch cadavers, let alone real patients. "It's safer and easier to have something digital," she says. She also freelances for pharmaceutical companies. Patient education is a passion. She enjoys creating visual images for education materials that help patients understand procedures and make them less daunting.
Biomedical art has many avenues beyond medical education. A friend of Siena's designs exhibits for a natural history museum. Attorneys use scientific illustrations to explain medical information to juries. Other medical illustrators specialize in certain areas like surgery or ophthalmology, or in types of media, like animation or 3D models.
Five years since taking Drawing for Understanding in Field Science at BHS, Siena remains enthusiastic about the class. Because her sister, a BHS senior, is taking the class and Siena keeps in touch with Ms. Sartanowicz, she knows that the class has evolved. "It was great when I took it, but it's even better now," she says. "I would retake it if I could."
— Jennifer B. Wells