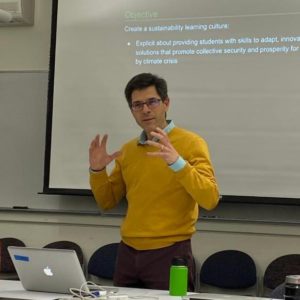 Meet Roger Grande, the BHS Innovation Fund 2019-2020 Innovation Fellow who is taking on climate change at BHS:
Roger Grande has been teaching social studies for 20 years at BHS and was named the BHS Innovation Fund Innovation Fellow for 2019-2020. The Innovation Fellow is a BHS faculty member serving as a catalyst for innovation in the BHS community, sparking interdisciplinary collaboration within the school, and supporting innovative projects at BHS. In this role, Roger will focus on building a learning culture of climate sustainability at BHS. Climate change is one of the most pressing issues of our time and will impact every BHS student. As such, BHS seeks to develop a culture of learning and sustainability among all students to give them the leadership skills and tools needed to tackle issues related to climate change at BHS and beyond. Roger answers five key questions about his plans to engage the BHS community in issues of climate sustainability.
How will you build a learning culture of climate sustainability at BHS and why is it important?
My goal is to make climate change a school-wide mission at BHS, one that will produce many tangible benefits that the community will see and feel over time. Making sustainability part of our classroom and school culture makes for great education and addresses some of the things we all aspire to: building a common purpose, social solidarity, empowering students to lead and innovate, ownership over learning to address challenges, examining our impact, systems thinking, addressing equity and more.
We have a long way to go to build a true sustainability culture at BHS but I'm excited about the opportunities ahead. I have been meeting with multiple stakeholders at BHS and in the town of Brookline, including town officials, school employees, members of the Solid Waste Advisory Committee, advocates and even people from other districts to better understand the challenges to improved recycling and composting and reduction of waste, and ultimately methane production. I see a number of exciting areas where we can make an impact. Currently, I'm working with students to design lessons that will be taught in Advisory with the goal of creating a learning sequence for the whole year that will train and teach students about improving waste practices. I will also launch a paper challenge and a water bottle challenge to reduce waste—the money from the bottle challenge will be used to support the Brookline-Nicaragua Sister City project to support their water treatment initiative. My aim is to expose students in as many areas as possible across the school and cultivate a sense of importance, stewardship and common mission.
What are the key challenges/obstacles that you see in addressing climate change?
Until now climate change has been covered in only a handful of science class lessons. We haven't had the systems, synergies and support in place to develop robust curriculum and integrated learning experiences to better educate our students. My goal is to develop authentic, school-wide educational initiatives that support and engage BHS staff and students and create hands-on learning experiences. I see opportunities to provide support and leadership to teachers to help them begin finding connections between what they are already doing and sustainability education. I also see opportunities to integrate waste collection, cafeteria, restaurant and school store into sustainability learning opportunities.
How will you work with BHS faculty and students to make sustainability part of the classroom and school culture to affect change?
I plan to work with the BHS faculty and students to integrate sustainability in many different ways. I've been working closely with BHS teachers and students on sustainability initiatives and curriculum development including developing a Concept Curriculum Map. Soon I will engage staff, students and community members in focus groups to gather input, develop additional ideas, and build a vision for BHS as a sustainable institution. I will also meet with food services, along with Food Justice students, to brainstorm ways we can reduce waste and emissions generated by supplies, menus and other practices. Additionally, Brookline Schools will soon have access to a freight farm, and I will work with the company to develop internship opportunities, curriculum and hopefully a summer program for Steps to Success students. Stay tuned for more details and opportunities for involvement.
What do you hope to achieve? What does success look like?
My aim is to make sustainability part of our common culture and expectations: common norms and practices in the cafeteria regarding waste; more teachers who are explicit about using less paper and reusing supplies; and, more sustainable practices in terms of the food and food service in the cafeteria and restaurant. My goal is to have at least two teachers in every department modify, amend or add to their curriculum so that sustainability is embedded into lessons and classroom practices. I also hope to create more opportunities for student leadership such as "compost captains" in the cafeteria.
What does the opportunity to be an Innovation Fellow mean to you and how has it influenced you as a teacher at BHS?
The short answer is much more than I had imagined. In fewer than two months, I have learned a lot, have connected with many people I would not have otherwise, and have begun to build excitement across the school. I have deepened, energized and accelerated my thinking and excitement, and have begun to think about how to continue to lead this essential work beyond this year.