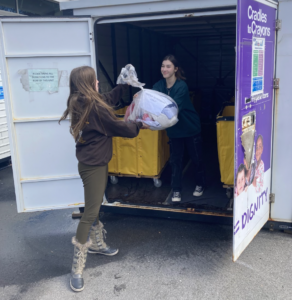 I
Sophia Su, Staff Writer https://thecypressonline.com/ | April 7, 2023
For members of the Turkish and Syrian diaspora, Feb. 6 will mark a day of mass destruction and devastation. The 7.8 magnitude earthquake along the Turkey-Syria border left millions displaced, thousands dead and put reconstruction costs in the billions.
Within a week of the disaster, students in Global Leadership, an elective course designed to educate students about modern-day challenges across the world, shifted their efforts to aiding the crisis. The class organized fundraisers, set up donation centers and spread awareness around the community.
Sophomore Sasha Harwin, a student in Global Leadership, said that despite the project being teacher facilitated, students took initiative and led the fundraising process.
"When we learned about the earthquake, we dropped everything else and immediately started to brainstorm ways we could help Turkey and Syria. Going in, we already knew there were going to be donation aspects, but we also wanted to put a big emphasis on spreading awareness around the school," Harwin said.
Due to the urgency of the issue, the class had minimal time to prepare and organize logistics. They ultimately broke up into four separate groups to cover all bases: awareness, publicity, in-kind donations and monetary donations. Harwin said that each student was able to choose their own group, and everybody remained passionate about their work.
"The whole thing came together so fast and everybody stayed accountable," Harwin said. "It's a real and dire issue, so everyone was willing to help out in their free time."
Harwin was a member of the awareness team, and gave presentations to World Language classes to generate more attention on the issue. Harwin and her team also reached out to all Brookline Public Schools to set up more donation centers. Despite only successfully connecting with Baker and Florida Ruffin Ridley school, she said that the team still managed to amass nearly twenty large bags of clothes, tents and blankets.
The class initially planned to send the in-kind donations to the Turkish embassy; however, their recently updated donation requirements forced the group to look elsewhere to donate. Harwin said that although she is disappointed with the unexpected change, she is still happy to know that they are able to donate everything to Cradles-to-Crayons and On-the-Rise, two local and dedicated organizations.
"It still feels so empowering because for most projects we do, we just talk and learn about big disasters in the world, but this felt so real because we're actually going to make a difference for the first time," Harwin said.
For junior Yoni Tsapira, a member of the monetary donations team, fundraising was also a new experience that he said will stick with him. His group managed to raise over $9,000 dollars through a GoFundMe page in two weeks and was only a few hundred dollars short of their ten-thousand dollar goal. He said that the GoFundMe is still active, but the class is planning to deposit their donations to UNICEF soon, a United Nations agency dedicated to providing humanitarian and developmental aid to children.
"It's really cool to know that we as high school students can have a real impact," Tsapira said. "If you think that you're just a teenager and can't do much, well, you can—because we just did something."
Global Leadership teacher Roger Grande said that overall, he considers the fundraising efforts to be a major success for reasons beyond just the money raised.
"It was great that we achieved our goal, but it was so powerful because the students saw what they could do; it was both a real life effort and a classroom effort," Grande said. "What I wanted them to take away from this project is what I want them to take away from this class in general: that they are insightful, their thoughts are real, and that they are powerful; that they are changemakers."