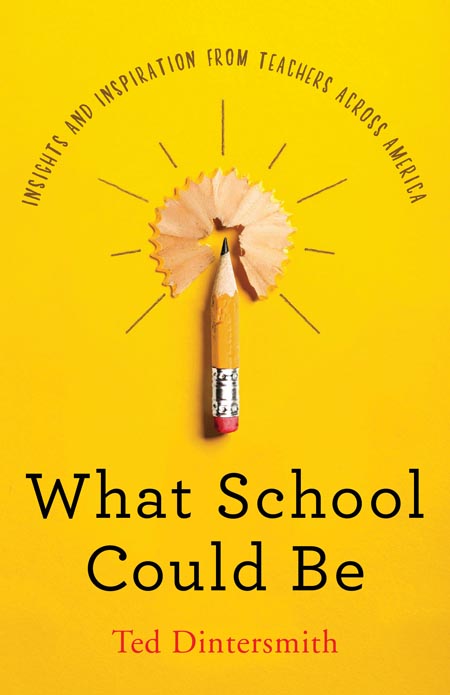 What School Could Be: A Conversation About the Intersection of Innovation and Education with Author and Innovation Expert Ted Dintersmith
The BHS Innovation Fund will host a conversation with Author and Innovation Expert Ted Dintersmith to discuss his new book What School Could Be: Insights and Inspiration from Teachers Across America. What School Could Be is an inspiring account of teachers in ordinary circumstances doing extraordinary things, showing what leads to powerful learning in classrooms, and how to empower teachers to make it happen. Moderated by WBUR's Meghna Chakrabarti, the thought-provoking conversation with Mr. Dintersmith will delve into how teachers can change the education system in creative, compelling and practical ways to positively impact students and better prepare them to succeed in the innovation economy.
The event, which is free and open to the public, will be held at Brookline High School on Thursday, September 20, 2018, at 7:00-8:00 pm. Doors will open at 6:30 pm. A reception will follow the speaker, concluding at 9:00 pm. At the reception, the public is invited to meet faculty, student, and parent representatives from the BHS Innovation Fund to learn more about our twenty-year history with the Public Schools of Brookline. Mr. Dintersmith is scheduled to attend the reception.
Brookline Booksmith will be at BHS with copies of What School Could Be available for purchase before and after the program. Preorders are available here. Use "BHS EVENT" in the Comments section when preordering online. Purchases made during the event can be picked up at the store at a later date.
To register for the event, click here.
EVENT DETAILS
What School Could Be Conversation & Reception
Brookline High School (BHS), 115 Greenough Street, Brookline MA
Speaker: Ted Dintersmith with Meghna Chakrabarti
Location: BHS Roberts-Dubbs Auditorium
Doors open at 6:30 pm
Program begins at 7:00 pm
Reception: Learn about the BHS Innovation Fund
Location: BHS Atrium
Time: 8:00 – 9:00 pm
This event is free and open to the public but advance registration is recommended. Click here to register.
Note: Registration does not guarantee seating. Admission will be on a first come-first served basis due to space regulations. Brookline High School is wheelchair accessible. If you need a special accommodation to attend in this event, please notify us by September 6.
Parking: on-street
Public Transportation: MBTA Green Line T to Brookline Hills
Please contact Stacey Zelbow, the Fund's Director, at 617-713-5201 or bhsinnovationfund@psbma.org with any questions.
For more information…
Listen to the WBUR Radio Boston interview.
Watch Ted Dintersmith's TEDtalk.
Read What School Could Be: You can purchase the book here.
Visit Ted Dintersmith's website.
Learn how donations support the BHS Innovation Fund here.