Invest in Curriculum Innovation
Dear Friends of Brookline High School:
The BHS Innovation Fund invests in curriculum innovation at our school. It's the source of many treasured courses and initiatives. Since 1998, the Innovation Fund has invested $6 million in 30 programs at BHS. Please take a few moments to watch our student-made video to hear directly from Head of School Anthony Meyer, as well as faculty and students, about why the Fund is so important to BHS.
Not only does the Fund impact learning at BHS, it is an essential tool for the Public Schools of Brookline to recruit and retain stellar faculty. By providing opportunities and funding for curricular exploration, the Fund enables teachers to create meaningful contributions that reach all students at BHS. This is unique in public school education. Recently, our approach was validated at a special event with author and innovation expert Ted Dintersmith, moderated by WBUR's Meghna Chakrabarti. As Jackson Cote of the Boston Globe wrote following the event: "[Brookline High] is the only educational model [Mr. Dintersmith] has seen, 'where kids actually design, make, invent' with 'really great directionality' from instructors." This year, we received many exciting proposals covering a wide range of student populations, academic departments, and career sectors.
Throughout the year, Fund volunteers reach out to the BHS community to share the exciting ideas we see in curriculum development. Whether it's at one of our coffees for parents with Anthony Meyer and Fund faculty, at our Gala-Rama fundraiser, at our welcome event for rising 9th and 10th grade parents; or via newsletters and emails, phone, or social media; our team is passionate about the learning happening at BHS. We welcome you to help at our events and to work on projects with us. We are deeply grateful to many of you who have volunteered over the years, and who have provided financial support to date.
As we mark our 20th anniversary this year and look ahead to the BHS expansion, we are excited to ponder the opportunities on the horizon. Because the Fund is a 501(c)(3) non-profit organization and is not eligible for taxpayer resources, we can only make investments in teaching and learning with donations, in any amount, from contributors like you. This year, we will invest over $200,000 to support the BHS Innovation Fund programs. Help us invest in new curriculum at BHS and support BHS educators as they prepare our students to be collaborative thinkers, productive workers, and global citizens.
We wish you and your family a very happy New Year!
Ellen Rizika, Chair, Board of Directors
Polly Ross Ribatt, Chair, Fundraising Committee
We Are the Venture Capital Arm of BHS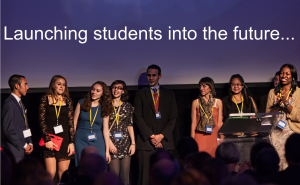 We are a fund for students, teachers, school officials, parents, alumni, and public school advocates.
Support for the Innovation Fund is an investment in the future of public education. Tax dollars finance the major operational and capital needs at Brookline High School, but they cannot be the sole source of funding. Private donations can play a critical role in the success of public education by making it possible to try new ideas, new approaches for facing challenges and for seizing opportunities.
Since its founding in 1998, the Innovation Fund has engaged faculty, students, parents and alumni and the community at large to invest in the future of Brookline High and public education. Since our inception, the BHS Innovation Fund has raised more than $10 million to launch and sustain 21 programs, of which 6 are currently being implemented and eleven have been fully incorporated into the Town of Brookline budget.
Brookline High School is widely recognized as one of the best public schools in Massachusetts, and the BHS Innovation Fund is committed to maintaining that reputation. To do that, we rely on the generosity of our Brookline community, parents, alumni, and education advocates.
The Innovation Fund is a 501(c)(3) organization. All gifts are tax deductible. If contributing using your donor-advised fund, please use the following information to process your donation:
| | |
| --- | --- |
| Tax ID: | 043402735 |
| Organization Name: | Brookline High School 21st Century Fund Inc, d/b/a BHS Innovation Fund |
| Address: | BHS Innovation Fund |
| | PO Box 470587 |
| | Brookline Village, MA 02447 |