Medical Interpretation and Translation
Training students to become Spanish/English medical interpreters.
Currently 16 students / 1 teacher
Offered through the BHS the World Languages Department, this course begins by training students to become Spanish/English medical interpreters. For the first year, the target group of students will be seniors who can speak, read, and write fluently in English and Spanish. Credit earned may be applied to either a student's World Language or Career Ed profile.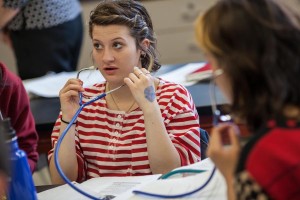 Shadowing opportunities for the second semester have been secured at St. Elizabeth's Hospital and at Beth Israel Hospital. Cori Green, the program leader, continues to research connections with other local hospitals and health facilities for more experiential learning opportunities.
There is a possibility of expanding the program to train students who are bilingual in English and another language if the program is successful. These students should have an interest in the sciences and/or medical professions. It is recommended that they complete the Medical Careers Class prior to taking the Medical Interpretation and Translation Course (in their sophomore or junior year), but it is not a requirement. These students should be emotionally mature in order to adequately deal with the serious issues that may arise in a medical capacity.
Background
For the past 20 years in the World Language Department we have been trying to figure out how to best serve the heritage language speaker population. Since then, the Hispanic population at Brookline High School has increased. Maria Carreira, a professor of Spanish at California State University in Long Beach states that "it is best to separate heritage and non-heritage language learners because their needs are so different." Many other heritage language experts agree. Yet, at the present moment we include heritage speakers in the same classes as non-heritage language learners. Medical Interpretation and Translation highlights the strengths of the heritage speakers and help them to grow in an authentic way. Another growing body of students are those who have completed our highest level of Spanish (5AP) by the time they have finished their junior year. This number will continue to increase now that we have Spanish in the elementary schools.
Why this Program is so Important for Brookline Students
Who are heritage speakers?
Heritage languages expert Guadalupe Valdés, a professor in the School of Education at Stanford University, gives a widely-cited definition of a heritage language-learner as an individual "who is raised in a home where a non-English language is spoken, who speaks or merely understands the heritage language, and who is to some degree bilingual in English and the heritage language" (The Language Educator, February 2011).
Why do heritage speakers need a separate Spanish class? Why can't they be placed in the existing Spanish classes?
Heritage-language learners study Spanish for different reasons than non-heritage-language learners. According to the results of the National Heritage Language Survey conducted by Maria Carreira and Olga Kagan, 50.2% of heritage-language learners said they were studying Spanish to make connections with family and friends in the United States. However, the curriculum in a Spanish class often focuses on the Spanish-speaking world. "Carreira believes that for heritage language learners, lessons should be meaningful and authentic in the U.S. context" (The Language Educator, February 2011).
Heritage-language learners have a more personal connection to the language, and they come to the classroom with valuable skills and knowledge. In the past, however their skills were devalued. "'What prevailed before was the deficit version — that they don't speak well, and their knowledge should be eradicated and we should start anew'…Her research showed that instead we should build on what they have" (The Language Educator, February 2011). We need to emphasize that heritage-language learners' second language is a huge asset, especially to speakers of Spanish, whose language and culture is often denigrated.
ACTFL (the American Council on the Teaching of Foreign Languages) suggests that language programs can ensure the academic success of heritage speakers by providing the following:
Curriculum design that reflects the fact that the needs of native speakers and heritage speakers are often significantly different from non-native and non-heritage speakers;
Challenging curriculum that builds upon the existing linguistic skills and the cultural heritage and knowledge of the students;
Assessments that integrate language, culture, and literature for all students Pre-K through 16;
Opportunities for heritage and native speakers to become involved in their language communities beyond the classroom; and
Systems to award credit or appropriate placement for oral and written proficiency and prior learning for native and heritage speakers.
Why medical interpretation?
Bilingual students possess an existing skill that, with development, could offer them a means to provide an important service to others and a means to support themselves. According to the results of the National Heritage Language Survey, 71.1% of Spanish speakers said they were studying Spanish with a future career or job in mind. Medical interpretation is a growing field despite times of high unemployment. A new study published in the book Closing America's Job Gap indicates that English translation and foreign languages is among the top ten emerging job opportunity sectors. According to the 2011 Hot Careers for College Graduates, a study published by UC San Diego Extension, Spanish/English Translation/Interpretation is one of the top ten best career choices of the moment. This is because the Hispanic population is the largest minority in the U.S. and it is the fastest growing. Translators and interpreters are needed in a variety of industries, but "[i]n particular, demand is strong for interpreters and translators in the health care and legal fields, due to the critical nature of the information." As a result of these factors, the UC study predicts a large growth in employment in Spanish English Translation/Interpretation within a ten-year span: "Growth in employment within this field is projected to increase in the United States by 22 percent between 2008 and 2018."
At Brookline High School we are fortunate that we are in such close proximity to many of the finest hospitals in the country, enabling students to shadow and train with highly qualified interpreters. They will thereby have the opportunity to put the skills they have learned into practice in a real-world setting, which has long been a core-value of courses offered in the Career Ed and a goal of the World Language Department.