What We Do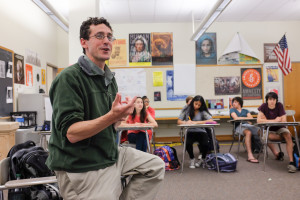 Supported by parents, alumni, and members of the community, the BHS Innovation Fund is a sustainable resource for innovation at Brookline High School. Using private donations, the Fund sponsors teacher-led ideas, and upon being tested for 3-4 years, successful programs are integrated into the school's curriculum by the Town of Brookline. The Innovation Fund makes targeted investments that enrich the learning culture at BHS; enable students to thrive in an increasingly global and complex society; and energize faculty by encouraging curriculum experimentation.
The BHS Innovation Fund provides funding for model programs that are designed to improve academic achievement for all students. All students and teachers benefit from our programs each year. Since our inception, the BHS Innovation Fund has launched 21 programs, of which six are current investments and of the remaining 15 programs, 11 have become fully incorporated into the Town of Brookline budget.
Learn more about the Innovation Fund's Current Programs and Integrated Programs.
Programs Launched by the Innovation Fund
Programs Integrated into Brookline Public Schools
Current Innovation Fund Programs