We Are the Venture Capital Arm of BHS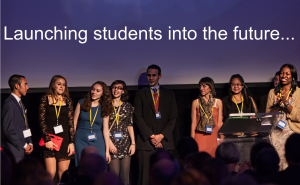 We are a fund for students, teachers, school officials, parents, alumni, and public school advocates.
Support for the Innovation Fund is an investment in the future of public education. Tax dollars finance the major operational and capital needs at Brookline High School, but they cannot be the sole source of funding. Private donations can play a critical role in the success of public education by making it possible to try new ideas, new approaches for facing challenges and for seizing opportunities.
Since its founding in 1998, the Innovation Fund has engaged faculty, students, parents and alumni and the community at large to invest in the future of Brookline High and public education. Since our inception, the BHS Innovation Fund has raised more than $10 million to launch and sustain 21 programs, of which 6 are currently being implemented and eleven have been fully incorporated into the Town of Brookline budget.
Brookline High School is widely recognized as one of the best public schools in Massachusetts, and the BHS Innovation Fund is committed to maintaining that reputation. To do that, we rely on the generosity of our Brookline community, parents, alumni, and education advocates.
The Innovation Fund is a 501(c)(3) organization. All gifts are tax deductible. If contributing using your donor-advised fund, please use the following information to process your donation:
| | |
| --- | --- |
| Tax ID: | 043402735 |
| Organization Name: | Brookline High School 21st Century Fund Inc, d/b/a BHS Innovation Fund |
| Address: | BHS Innovation Fund |
| | PO Box 470587 |
| | Brookline Village, MA 02447 |